Joined

May 8, 2011
Messages

8,064
I thought I posted this trip report two years ago. Better late than never, I suppose, and I doubt much has changed.
I had some points to use and hadn't been on the SWC in three years. Those who've known me a long time know that I traveled to ABQ with my ex-boyfriend every year to visit his family.
We broke up in 2015, and one of the things I missed most was our yearly trip to ABQ. I eventually realized that just because I wasn't with him anymore didn't mean I couldn't travel on the SWC again, and I had always wanted to see the scenery beyond Albuquerque.
I decided to take it all the way to L.A, visit with
@trainman74
and some other friends in the area, and then fly home on Southwest.
Since I was flying back to Chicago, that meant I had to either drive to Chicago and leave my car somewhere all week or drive to Indiana and take the South Shore Line to Chicago. I know lots of places to park in Chicago for free, but they're all on the north side, and Midway is on the south side. It would have taken just as long to ride CTA from Midway back to my car as it would to take the South Shore back to Indiana, so I opted to take the South Shore. (This was a mistake. More on that later.)
It takes around an hour and a half to drive to the Dune Park South Shore station. I prefer to use that station rather than Michigan City since they have a huge parking lot. Plus, it's a beautiful setting. It was a nice, autumn day, if not a bit overcast. The ride on the South Shore was uneventful. We left Dune Park around 9:50 a.m. and arrived at Millennium Station around 11:10.
The weather wasn't nearly as nice in Chicago. The rain fell like a blanket, and the streets were flooded. I had a rain jacket with hood but opted to grab an Uber to Union Station rather than walking a mile or waiting for a bus. In the time it took me to dash from the doorway at the Chicago Cultural Center to the open door of the Uber, I was absolutely drenched. Luckily, I had a couple hours to dry out before boarding the SWC.
Normally, I would have grabbed lunch on the way to Union Station, but I decided to leave my bags in the lounge and eat dinner in the station. I had a carry-on, my small backpack, and my purse. The baggage room was filled to capacity. Even the floor was blocked with luggage. I managed to find some space near the back after carefully climbing over a few bags.
The state of Wisconsin had purchased ad space at Union Station and featured a brilliant autumn display. This is the area near the Metra Ticket counter and the doors to the Great Hall:
I ended up eating lunch at Kelly's Cajun Grill, which is no longer open. It was actually a Chinese restaurant, so I have no idea where the Cajun name came from. They had this amazing lemon chicken, which didn't even taste like lemon. It was more like sesame chicken, but that's what they called it. The entire place was kind of an "in" joke with some people who went to the Chicago Gathering in 2013. We started calling it "Gathering Chicken" since we ate it for lunch nearly every day.
The food court is always pretty crowded, so people practice communal seating. I sat with a nice older gentleman who was traveling to St. Louis to visit his daughter. We talked for a bit, and then he had to leave to catch the Texas Eagle.
I didn't take any pictures of the Great Hall since I've been there a million times. Honestly, I didn't take any pictures until we were underway.
In fact, I took this picture, and then we stopped. Those familiar with the south tracks will realize we hadn't moved very far at this point:
In fact, I'm fairly positive the rear of the consist was still in the tunnel when we stopped. I figured it was just something random, like Metra traffic, but five minutes turned into fifteen... then thirty... Eventually, my car attendant came by to let us know the engineer had seen a warning light and they were checking the brake system. (Fine by me.)
After an hour, we were on our way again. It was still overcast and dreary, perfectly October. I had never taken this trip during autumn, so the scenery, while familiar, looked much different in the October gloom:
I was in a lower level roomette, which was a first for me. I was in room #14, next to the Family Room. Much to my relief, it was not occupied by a loud family, but it WAS occupied by a loud woman who refused to use headphones to watch her programs and used the screechiest Midwestern voice possible while talking on her phone. (Later, the car attendant told her that if she did not start using her headphones, she would be asked to leave the train at Kansas City.)
Across the hall from me was another woman who started complaining before we left the station. She must have thought I worked for Amtrak, because she asked me a thousand questions before we reached Galesburg. I am a kind person and truly enjoy helping others, but when I'm on vacation, I have my limits. The entire point of going on vacation is to get away from people who need me, as I am intellectually and emotionally "touched out" by the end of each day. This woman glommed onto me as much as possible, so I ended up keeping my door shut for the entire trip. (It did not help. More on that later.)
When we reached Mendota, I took a couple pictures of the old locomotive parked by the station: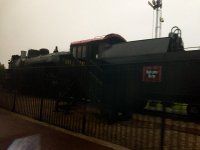 It's part of the railroad museum -
http://www.mendotamuseums.org/UDRR.htm
- which I have not taken the time to visit yet. During the holidays, the locomotive is lined with strings of white lights and looks quite pretty in the snow.
My car attendant had come around for dining reservations beforehand. The woman across the hall heard when I was going to dinner and decided to accompany me. Despite having been on three trains so far (she was on a round-the-U.S. trip), she did not know how to locate the dining car. I told her it was upstairs, and she said, "I'll just follow you." So, she walked to the dining car with me, and we were seated together.
I ordered the steak with Bearnaise sauce, which was delicious. It was accompanied by a salad, green beans, a baked potato, and roll. Everything was delicious, but the roll was a bit stale. I particularly loved the Bearnaise sauce and dipped my potato and beans in it before each bite. Unfortunately, the photo is a bit dark and makes it look unappetizing. My steak was cooked "medium", not "charcoal" as the photo suggests:
During dinner, my "companion" spent the entire dinner complaining that she had to eat green beans again. She was so
sick of green beans
. I half-joked that if she didn't eat her vegetables, she couldn't have dessert, which earned a laugh from the other two people at the table but not her. She then complained that her travel agent didn't inform her that the dining car was on the upper level and then pointed to me and said, "She knows everything about this train. She's going to be my travel agent for the rest of the trip."
(Photo limit reached - to be continued in the next post)